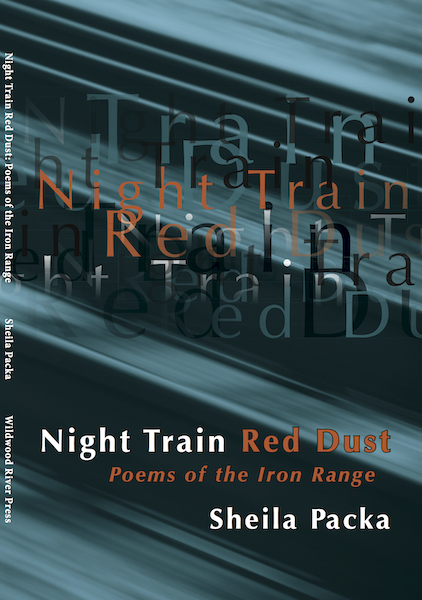 These poems are about the Iron Range in Minnesota, the Vermilion Trail, and they are stories of travel and derailment about mining, radical politics, unionizing, accordion music and strong women. The book brings together history, geology and the community of people with iron in their veins.
---
"I excavate these words from a vein of iron..." these poems are "test drills and core samples" — a weave of memory, archive, dream, song, story — drawn from the history and people of the Iron Range of northeastern Minnesota. These pages sound the whistles and roar of the mines, the dust in the lungs, the dangerous crossings into a new language, the accordion's breath. Culled from violence and tenderness, bone and ash, ore and light, they map a place, a time, a journey through love"
--Pamela Mittlefehldt, PhD and co-editor The Heart of All That Is: Reflections on Home Holy Cow! Press
---
"Sheila Packa's poetry is at once deeply personal and widely universal in its evocative exploration of fundamental human experience. Using the red ore dust with which she was raised, she paints vivid images of birth and death, work and struggle, hope and despair. Packa captures the unrest of immigrants leaving their homes in Finland and the unrest of the bitter labor union conflicts of the early days of twentieth century on the Iron Range of northeastern Minnesota. At the same as she chronicles events from the broad sweep of history as the country extracted iron ore from the ground and labor from the immigrants, she shares tender stories from daily life, using the micro-lens of her personal experience.
Especially arresting is the way Packa weaves into her book material from historical sources, including newspaper accounts of the union organizing efforts of Elizabeth Gurley Flynn and reports on the gritty work of physicians who tended to the medical needs of the miners and their families in the early days. Women —whether in the mines or on hardscrabble farms — are equal players in Packa's Iron Range, a refreshing treatment of a region often seen as differentially the province of the male. From the story of men and women fighting for their survival and dignity in the days of industrialization to the image of a fragile grouse in the gunsights of a hunter contemplating its mortality, Packa captures the beauty and the contradictions of the place and times that have made the Iron Range iconic in history".
--Leah Rogne, PhD, Professor, Minnesota State University, Mankato
---
Other reviews / information available on Sheila's blog
---
Wildwood River Press, 2014
ISBN 978-0-9843777-7-0
Available in bookstores.
Distributor: Ingram
$15
---